So my odrive is mysteriously not working. Was working swimmingly until today.
Details:
Running MacOS Sierra 10.12 Beta (16A254g)
Running build 5491
Found a greyed out odrive icon and this for a menu:
Found an empty "odrive" folder (zero items) alongside a folder named "odrivebackup-2016-07-31-0017" which has what appears to be the contents of the previous odrive folder.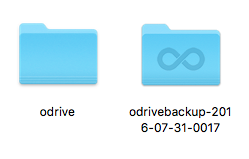 Tried restarting system. No help.
Tried deleting and reinstalling app. No dice.
Tried deleting "~/.odrive" directory. Nothing different.
Tried clicking "Set up odrive". Does nothing.
Any ideas?